Review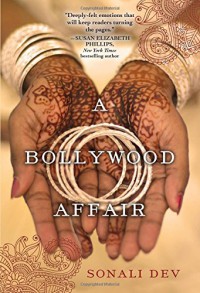 A Bollywood Affair is one of those books that I was hesitant to read due to all the hype surrounding it. I had heard fabulous things from many readers and bloggers that I trust, but I just couldn't make myself jump over the edge until now. And I am left mentally hitting myself in the head (again!) for being so reluctant to engage in this unique and utterly charming contemporary.
The only thing that Bollywood director Samir cares about is his family so, when he discovers that his brother's village-arranged marriage (which happened when he was eleven and the bride four) was never properly annulled, he volunteers to charm his "wife" into signing the divorce papers. Mili, on the other hand, firmly believes that she is married to Virat and has been trained by her grandmother to be the perfect Indian wife. She is currently studying in America to enhance her appeal to her husband whom she has not laid eyes on since the wedding. Of course, this is a romance so this whole situation gets complicated when Samir lies about his identity and ends up falling in love with Mili.
Mili and Samir were both so adorable and relatable! I wasn't sure if Mili's innocent personality would get old, but it never did thanks to Sonali Dev's impeccable character development. I came to embrace her slightly naive, but courageous look at the world. I also admired her ingenuity to get her grandmother to let her pursue higher education in the guise of becoming the perfect wife for Virat. Samir has the reputation as the bad boy of Bollywood and it was fun to see him in a situation that was so far out of his comfort zone. His friendship with Mili helps him see the world in a much happier way and I loved that he still retained his charm minus the world-weary, cynical aspect of it.
"It doesn't matter what my life has been like, Samir. What matters is hope. If you don't believe in a happy ending, what are you living for?"
The only thing that kept the book from being a five-star read for me was the amount of time it took for Samir to come clean to Mili. I understand that he was afraid of how she would react especially once he started to fall in love with her, but I just felt like it went on a bit too long. What did save that aspect of the plot was Mili's reaction and that Samir was forced to really grovel to get back into her good graces. Other than this element, I thoroughly enjoyed the plot and how the author portrayed Indian culture of which I know very little outside of Bollywood movies.
A Bollywood Affair is, at its heart, a contemporary version of the rake/wallflower plot with family drama and amazing food thrown in. The author's writing, character development, and the inclusion of Indian culture really elevates the less-than-unusual storyline. I completely understand why so many readers loved it when it came out and I am happy to recommend it to anyone who wants a contemporary that is a little out of the ordinary. I also cannot wait for Sonali Dev's follow-up, The Bollywood Bride, which comes out in September.