Review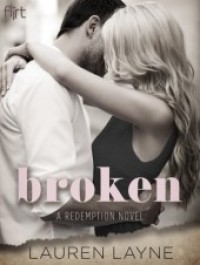 I read and LOVED Isnt't She Lovely, the prequel, so I had to request Broken when I saw it on Netgalley. This book focuses on the character of Olivia Middleton (the ex-girlfriend of Ethan, the hero in Isn't She Lovely) and her attempt to decrease her guilt over their break-up. I will admit that, while I was excited to read this, I was a little hesitant due to the way that Olivia was portrayed in the previous book, but, thankfully, she is redeemed and I really liked her by the end. While you definitely could read this as a stand-alone, I think it works better as a sequel so you can truly appreciate the growth of Olivia as a character.

The basic plot is that New York socialite Olivia drops out of college in order to act as a caretaker for a war veteran as a self-imposed penance for cheating on her ex-boyfriend. Things get complicated when she meets Paul Langdon and realizes that he is not the frail old man she was expecting. Then these two spend a significant amount of time arguing and circling around each other while they deal with their growing feelings. While the romance is a major aspect of the plot, I appreciated the fact that Paul and Olivia's development was even more important.

Olivia is trying to escape her past while Paul just wants to be left alone. Interestingly, they come from similar backgrounds, but took very different paths after high school. Their close proximity first causes some friction due to the fact that Paul does not want a caretaker and Olivia is determined to prove herself as capable and trustworthy. But, they do start to talk and become closer. There are the normal conflicts like when Paul ventures out of the house for the first time in forever and then when someone from Olivia's past pops in unexpectedly. I did appreciate the slow burn of the love story and how well Lauren Layne made me aware of how good these two were together.

Broken is part of a recent string of NA stories that have caused me quite a bit of surprise this year. While I have always enjoyed a few here and there, I have found myself lucky in this genre lately and I believe I can officially say that I am a fan of New Adult romances. There are definitely some plot points I still won't touch and I will definitely continue to research any books that I'm interested in like always, but I'm happy to be getting more into this genre that is just growing in popularity. If you are a fan of NA, I highly recommend both Broken and its prequel, Isn't She Lovely, for the wonderful writing style and lack of drama for drama's sake.
I received a free copy of this book from Flirt via Netgalley in exchange for an honest review.